WorldCereal developed an efficient, agile and robust EO based system for timely global crop monitoring at field scale. 
The open-source WorldCereal system is able to:
Create local to global annual cropland extent maps at 10 m resolution
Update the crop maps on a seasonal basis
Differentiate between actively irrigated and rainfed fields
Produce global maps of maize and wheat
WorldCereal is a global R&D challenge aiming to engage the global agricultural community to achieve optimal results. For the development of the system, we therefore build upon existing initiatives on e.g in situ data collection and sharing, algorithm development, IT infrastructures and best practices.
WorldCereal relies on the operational time series of the Copernicus Sentinels missions, which allow an unprecedented dynamic crop monitoring at global scale.
By focusing on maize and wheat during the system demonstration, WorldCereal aims to contribute to the global food security challenge as together with rice, these crops form the world's most widely cultivated species, accounting for an estimated 42.5 percent of the world's food calorie supply (FAO).
A FIRST SEASONALLY UPDATED GLOBAL ANNUAL CROPLAND MAP AT 10 M RESOLUTION
The project consisted out of two major phases; Phase 1 was dedicated toward the development of the system, benchmarking of the algorithms, setting up collaboration for in situ data collection, gathering data and data curation. The system was tested for 5 countries on three different continents, covering about 1.5 million km².
Phase 2 was dedicated toward production of the global maps, evaluating the products on both accuracy and utility and showcasing the products.
Cropland, a complex land use type to map
Crop extent, crop type and irrigation mapping at the global scale are challenging tasks due to the wide variety of landscape dynamics, crop types, growing seasons and agricultural management practices. 
Several attempts have already been made to come up with accurate global maps, but until now not one has succeeded in providing timely information at field level on a global scale. Current crop map layers miss either on spatial detail or timeliness of the products. As such, WorldCereal supports the agricultural community by providing a system that demonstrates the feasibility of a seasonal global monitoring system at field level.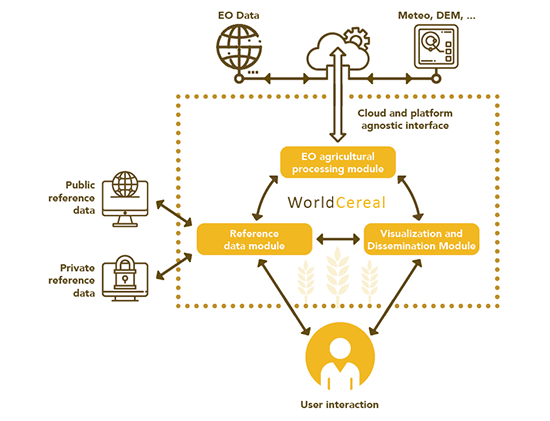 WorldCereal, taking it a step further in benefit of the community
WorldCereal not only provides a system which offers accurate, global and seasonally updated cropland extent, crop type and irrigation maps, it also provides the community with the necessary tools and technology to create these maps themselves for their own regions of interest and, if available, using their own reference data.
More specifically, the open-source WorldCereal system offers:
access to open-and free in situ and satellite data, including Sentinel and Landsat data
a tool to share reference data sets
newly developed and tested state-of-the-art classification algorithms
the necessary cloud infrastructure 
visualization tools to derive useful information from the produced maps
A new and innovative system building on existing initiatives
WorldCereal started in June 2020 by focusing on system development and benchmarking. The system needs to be highly flexible and scalable in order to capture the different agricultural dynamics which vary significantly depending on the location in the world. 
The FAO's agro-ecological zone maps, already used in the GEOGLAM Crop Monitor, and the crop calendars and phenology products of EU-ASAP, three good examples of existing community efforts, are used as a basis to capture these dynamics by the WorldCereal system. 
In 2022 WorldCereal shifted to an operational phase and demonstrated the system by creating seasonally updated global products at 10 m resolution. Less than three years after the official kick off, the WorldCereal team was proud to release the world's first dynamic system to provide seasonally-updated cropland and crop-type maps at 10-meter spatial resolution at global scale.